We see the way forward – with glass solutions for existing structures to reduce energy consumption and global carbon emissions.
Windows are the single largest source of energy loss in buildings.
To ensure our planet's survival, the energy efficiency of buildings must improve exponentially.
Our technological advancements in glass will accelerate us to net zero buildings.
Net Zero Glass
is a
Thermos™
buildings
LuxWall Net Zero Glass technology significantly reduces building heating costs up to 45% and cooling costs up to 20%. Net Zero Glass will change the built environment in the same way wind and solar are changing energy production. With mass adoption, this glass innovation can reduce global carbon emissions by 14%.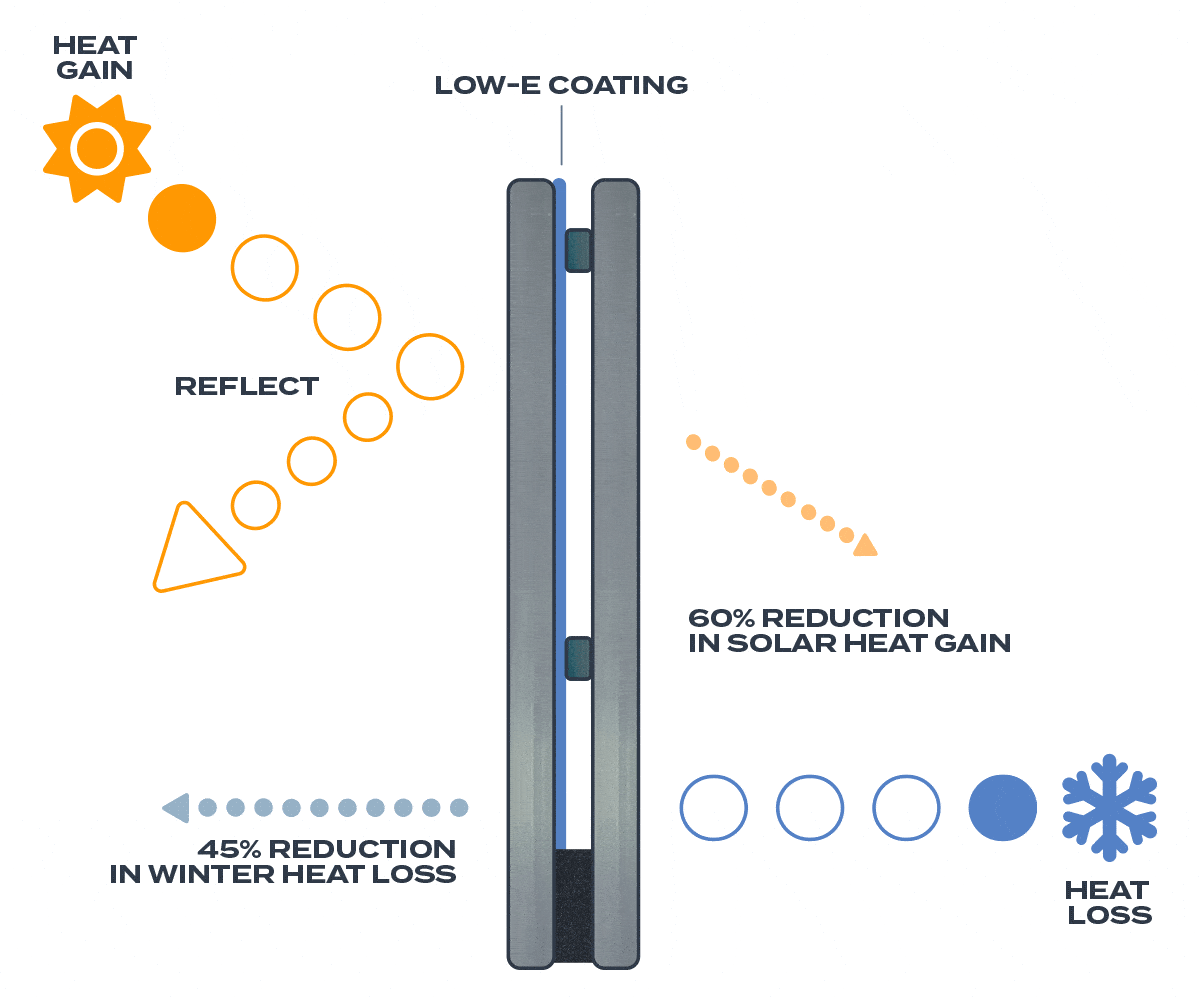 Our product innovations, called Net Zero Glass and Net Zero Glass Plus, are designed to reduce energy consumption in existing buildings and new construction.
Our solutions deliver R-12+ to R-15+ thermal insulation – outperforming current product offerings by up to 4X. Net Zero Glass can be customized for climatic regions (Low-E coating selection) and window sizes (glass thickness selection) to maximize return on investment. Net Zero Glass can be produced in a wide array of configurations to enable drop-in replacement of single and double pane insulated glass units.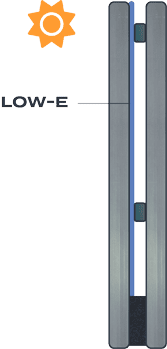 R-12+
Net Zero Glass
w/One Low-E Coating
0.45 COG u-Factor (W/m2K)
8-mm Thickness
Ideal for Single Pane Retrofits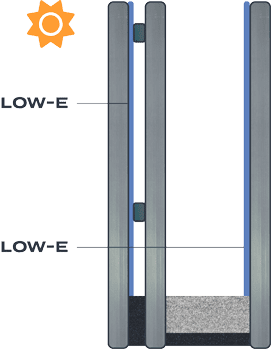 R-15+
Net Zero Glass Plus
w/Two Low-E Coatings
0.38 COG u-Factor (W/m2K)
25-mm Thickness
Ideal for Double Pane Unit Retrofits
Performance Metrics
Single Pane
(Clear)
Double Pane IG
(Clear : Clear)
Double Pane IG
(Low-E : Clear)
Net Zero Glass
(Low-E : Clear)
Net Zero Glass Plus
(Low-E : Clear : Low-E)
u-Factor COG (W/m2K)
5.82
2.68
1.64
0.45
0.38
u-Factor COG (BTU/h ft2 F)
0.98
0.48
0.29
0.079
0.067
R-Value COG (h ft2 F/BTU)
1.03
2.1
3.5
12.6
15.0
Visible Transmission
89%
80%
62%
62%
55%
Solar Heat Gain Coefficient
0.85
0.74
0.27
0.27
0.23
Sound Trans. Class Rating
31
34
34
35
39
Thickness (mm)
6
25
25
8
25
LuxWall is a building materials innovator
Our patent pending solution – called Net Zero Glass – is a glazing innovation engineered to prevent thermal pass-through, thereby reducing energy demand of building systems for heating, ventilating, and air conditioning.
Net Zero Glass is designed to help property owners significantly reduce carbon emissions in new and existing buildings.
LuxWall Net Zero Glass insulates as well as fiberglass wall insulation and delivers at least an R-12 insulation performance
LuxWall Net Zero Glass is a product that improves window energy performance up to 45% (based on single pane retrofit)
LuxWall Net Zero Glass reduces carbon emissions by 3.2 kg per square foot of building floor space when single pane glass is replaced
LuxWall Net Zero Glass provides a Sound Transmission Class rating improvement over existing glass products
LuxWall Net Zero Glass delivers true innovation, providing the first fully tempered vacuum solution to the market

Net Zero Glass. Designed to Solve.
Net Zero Glass tackles the rising demands property owners face today and in the future. Better for your tenants. Better for your bottom line. Better for the world.
Up to 45% Energy Utility Savings
Net Zero Glass solutions reduce energy usage up to 45% for single pane retrofits and up to 35% for double pane clear glass retrofits
Compared to current industry standards, provides a 3X reduction in payback period (based on single pane retrofit), as a direct result of energy cost savings, HVAC reduction and climatic region conditions
Routine installation completed from the interior of the building, using standard techniques in the glazing process
Increases Property Value and Leasing Rates
Upgrading to our efficient insulating glass solution with available R values of 12+ is a smart way to increase the overall value and aesthetics of your property
Up to 50% Reduction in Installation Costs
Net Zero Glass can be installed into existing commercial window frames, thereby eliminating the need for full façade or window replacement while still providing significant efficiency savings. We reduce glazing capital expenditures up to 50% over current glazing options.
Proactively Addresses Carbon Emission Tax Laws
40 countries and 20 cities have passed carbon emission laws. New York City Local Law 97 is the benchmark. Net Zero Glass will meet the requirements.
LuxWall is inspiring key partners to join our efforts
In this dramatic video, Breakthrough Energy Ventures, one of our key partners, describes the magnitude of the mission and why innovators like LuxWall are providing real hope for the future.
The challenge is in every building on Earth
At the 2022 Breakthrough Energy Summit, our LuxWall CEO opened his keynote address with this video describing the energy consumption challenge of the built environment.
LuxWall is helping make our buildings better
This episode of Gates Notes describes the ways LuxWall Net Zero Glass™ technology will help lower the carbon emissions of existing structures around the world. 
Buildings spend a lot of money on heat and much of it is just going out the window — literally. BloombergFebruary 9, 2023, 1:19 PM EST Windows are an easy way to keep buildings cool — but they could…
Acting as a thermos bottle for buildings, LuxWall's transparent insulation Net Zero Glass can cut energy consumption and carbon emissions by up to 45% and significantly reduce owner payback through energy cost savings LuxWall, a startup producing Net…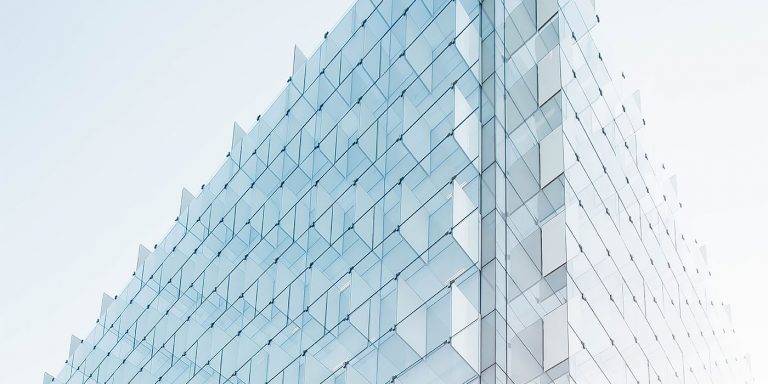 YPSILANTI, Mich. – LuxWall, Inc., a leader in innovative glass solutions is poised to drive dramatic change in the built environment with a product portfolio that lowers carbon emissions from building energy use. LuxWall manufactures glass that acts…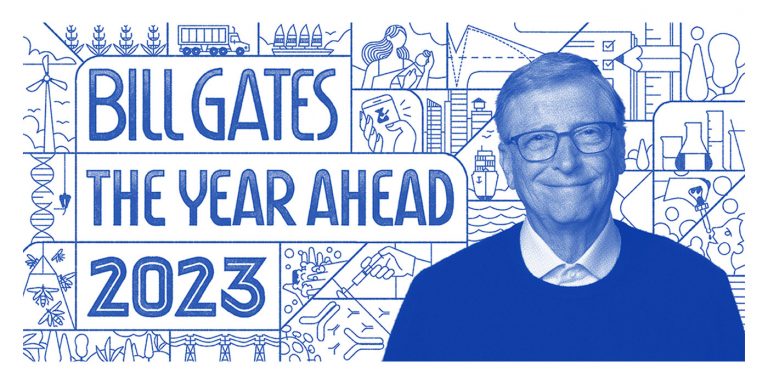 " " indicates required fields